Before we get into it, I want to preface this post by saying that I am in absolutely no position to be giving gardening advice. Like at all. Whatever the opposite of a green thumb is, that is what I have. I've tried a few times now to grow a flower garden of my own but have had very little success. So why keep trying you might ask? Well it's simple.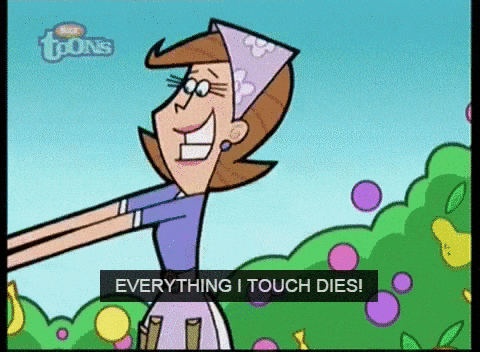 I just really love flowers. I love how bright and beautiful they are in the Spring and Summer and I love the fresh, floral scents they give my outdoor space. For these reasons, I will keep subjecting poor, innocent plants to my wicked gardening ways until my confidence is completely crushed. A little morbid, but true
Now that I've provided all the needed caveats upfront, let's get into this post! It's finally Spring! Oh my goodness I felt like it took so long for us to get here this year! Fellow Canadians, is it just me or does the Winter just get longer and longer with each passing year?! I can't tell you how happy I am to have warmer weather and more sunshine back in my life. The change in season has also made me want to garden again. Be outside, be one with nature! Ok maybe not be ONE with nature, but it does have me motivated to see if I can try my hand again at planting some flowers. Now I say "try my hand at" because that's exactly what it is. Trying. Extremely, extremely hard. Gardening definitely does not come naturally to me. I blame my mother. She passed on her questionable sewing skills and terrible way with plants down to me. Last year I tried to plant a balcony garden for the first time and had sad, wilted daisies in about a week. I just love to hard! I water and water and water until nothing but mush is left. I can't stop. It's like an addition. My name is Marisa and I over water my plants.
This year, things will be different! Or at least that's the hope. I dug out last year's disappointments and started over. I think part of the reason my last attempt at gardening failed so badly was because I had chosen some temperamental flowers that didn't do well in pots. While I adore the look and smell of daisies, my goodness are they hard to take care of. It was like no matter what I did they wilted and did terribly in my

planters. This year, I did my research and made sure to pick heartier flowers that could withstand a bit of shade and summer humidity. I also switched up the soil I used and went with a mix this time around to provide my flowers with an extra kick of nutrients to ensure they had a better chance at thriving. I went with Alltreat Farms 3-Way Mix with a premium blend of CQA-Certified Compost. It's supposed to condition the soil, help retain moisture and nutrients and improve soil aeration. I picked mine up at my local gardening centre, but I'm sure a grocer or superstore would also carry this brand of soil or something similar to it. I could tell a pretty significant difference between this soil and the cheaper soil I had used last year. The Alltreat Farms soil is so much richer and packed with moisture, where as the soil from last year was super chunky and dry. I'm really hoping that investing in a better soil helps to sustain my garden this year.
To do the actual planting I wore some gardening gloves. The Alltreat Farms soil that I used cautioned users to wear gloves, although I'm not totally sure why (any gardening connoisseurs can let me know the reasoning in the comments). I used a soil scoop and a trowel to put an even layer of soil into my pots. If you don't have either of these tools you can totally get away with using an old plastic or acrylic cup to get the job done (just don't use it from drinking again). I just find a scoop or a trowel to be faster and way easier for filling large pots. I also used a small cultivator to rake and till the soil a bit once I had packed it down into the bottom of my planter. Again, not necessary but I wanted to ensure there were no big clumps of soil before I planted my actual flowers. When placing my flowers, I made sure there was an inch or so between each flower and about and inch or two left at the top of my planter for additional soil to be placed. I'm hoping spacing my plants out a bit more will give them the best chance possible as they grow.
Here's how my pots turned out!
Balcony Hanger #1
Marigolds: I planted these last year and they did very well in my pots. I found them to be pretty low maintenance and able to withstand the more humid days we ended up getting last Summer. This year I decided to pick up both the yellow and the orange for a bit more colour variety in my pot.
White Bacopa: I had honestly never heard of this plant before I saw it at the garden centre the other day. However, it's super gorgeous and I fell in love with it as soon as I laid eyes on it. According to a few gardening posts online, Bacopas do very well in pots and will help to fill in any empty space between other flowers. Eventually, it will grow enough to spill over the planter to create a beautiful "waterfall" effect with white flowers. I can't wait!
Balcony Hanger #2
Dianthus: this is another plant that I had never heard of before my visit to the garden centre, but another I quickly fell in love with. The pink and red hues are so gorgeous that I just couldn't resist. Similar to Marigolds, this is another plant that is hearty and can do well in a various kinds of Summer weather. Here's to hoping I have as much success with these as I did last year with my Marigolds.
White Red Eye Ivy Geranium: easily one of my favourite kinds of flowers. Geraniums are super pretty and give off such a lovely scent. These do well with morning sun and afternoon shade, which is perfect with the direction in which my balcony faces. This one already has a few new buds on it ready to open, so I'm excited to see how well this one grows in my planter.
Floor Pot
Dahlia: definitely one of, if not my favourite flower. I refer to this one as my baby. Dahlias are so stunningly gorgeous in my opinion. I love the overlay of petals and the beautiful ombre of colours. This was the only more "difficult" plant I allowed myself to have. I know they can be prone to root rot when planted in pots, so I made sure to plant this one in a pot with good drainage. Keep your fingers crossed. If this one dies on me i might cry and have a funeral. And no I'm not kidding.
Gladiolus Bulb: while you can't see her, she's planted just behind my Dahlia. I've never planted just a bulb before, so I'm really hoping I can see at least the beginnings of a Gladiolus before Fall. It's likely super ambitious of me to even attempt planting it, but it was given to me by a friend, so I have to try. Are there any gardeners reading this that have some advice on successfully growing bulbs? Please feel free to leave any tips or tricks in the comments.
Finally, to spouse up my planters, I purchased some string lights, garden rocks and butterfly decorations from my local dollar store. I think they add a great touch to my garden this year and I'm super happy with how everything looks.
Did you do any gardening yet this Spring? If so, what did you plant? Do you grow more than just flowers in your garden? Leave your thoughts and tips down in the comments below! Happy planting🌱